陶板屋 / 新竹 - 祕密花園
Tokiya / Hsinchu – Urban Secret Garden
我們試著在寬廣、明亮、方正的玻璃盒子中,創造一種自然與流動的氛圍,並擁有一種溫柔關係,營造城市中的祕密花園。這是我們對台灣知名餐飲品牌陶板屋提出創新空間設計的構想。
不同跨度、曲度、角度的拱形結構跨越在空間交會形成的柱狀,如樹般的開展又如古代的殿堂;不同方格比例錯落的落地窗、黑鐵玻璃隔屏,如溫室般引入明亮的光線;樹立其中的書牆隱喻一種屬於自我弛放的沉靜空間。
Our innovative idea for designing a Taiwan's well-known restaurant Tokiya is to create an "urban secret garden" in a spacious, bright and glassy square box with warm vibes and natural fluidity.
As spreading trees in an ancient palace hall, the arches stretching overhead in different spans, curves and angles form columns. As a greenhouse taking in bright lights, the rectangle-shaped French windows are contrasted with the smaller ones below black-iron glass screens. The wall bookshelves surrounded by the arches and columns provide tranquil and relaxing areas for individuals.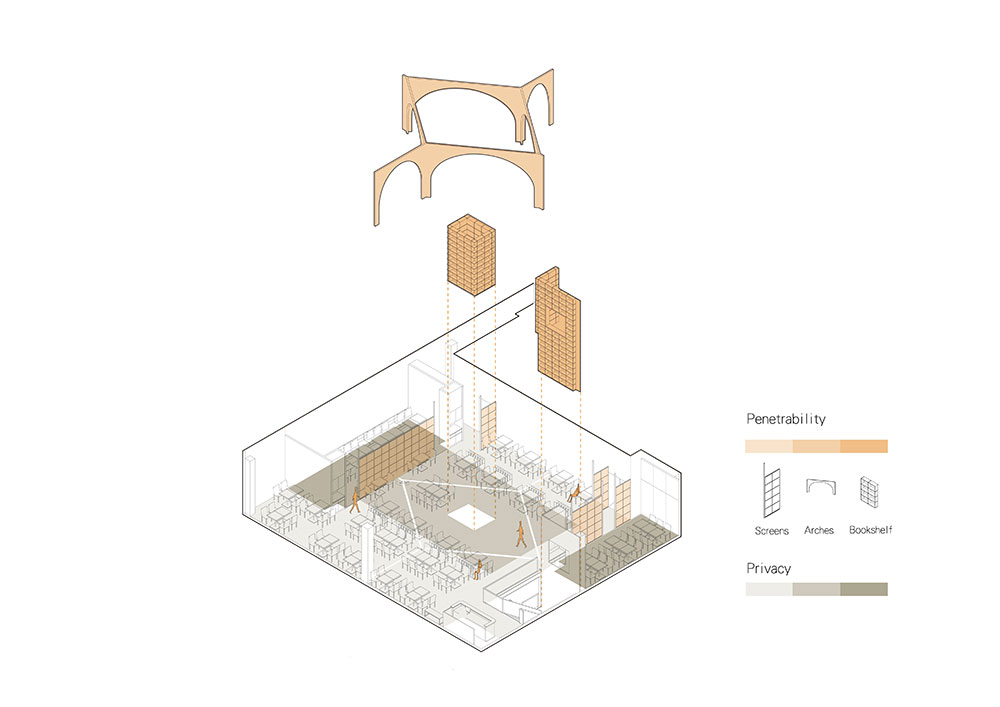 因此,一進門拾級而上,進入眼簾是一道巨大的書牆,有一種書香殿堂的沉靜氛圍,踏入其中彷彿走在陽光的森林裡,這些交會拱柱也在方體空間中扮演了軟性的區隔,錯落其中的沙發、餐桌、書牆、玻璃隔屏及擺設,讓不同的區域既有全然不同的獨特視角,也擁有空間上的連續性與律動性。
Upon entering the restaurant and taking the stairs up, people will see a huge wall bookshelf which turns the dining space into a tranquil academy. Although these arches and columns partition the squared space, people can still visually penetrate sofas, dining tables, wall bookshelves, glass screens and other décors in certain unique areas featuring continuity and rhythm.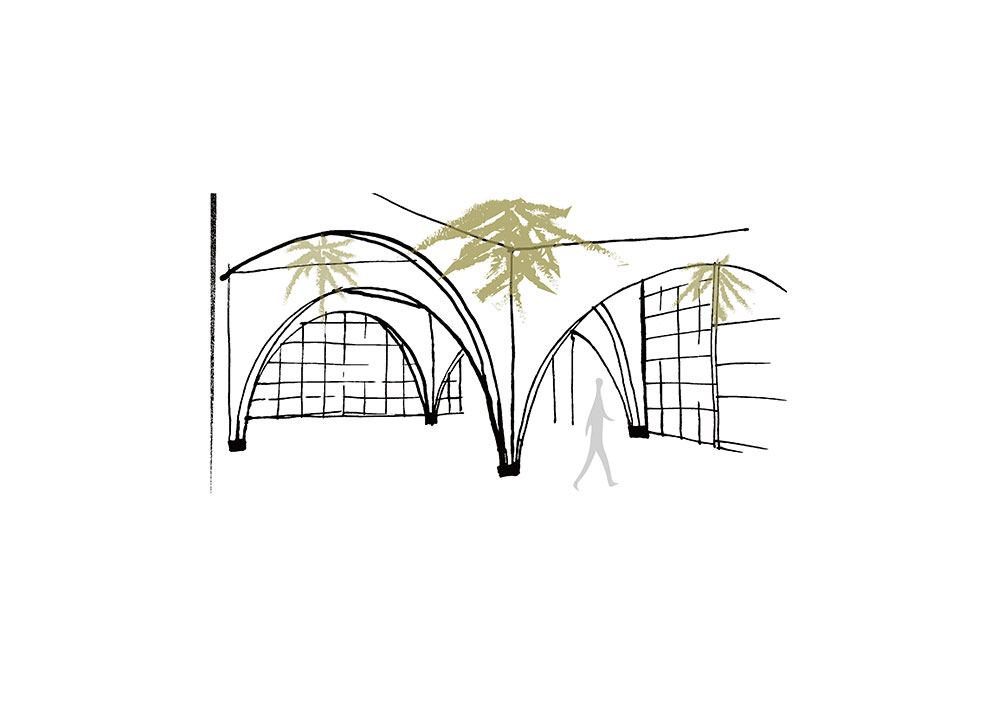 當人們在不同的拱形結構之間,有時像是充滿自然光的迴廊,有時彷彿置身在視線無法穿透的殿堂,有時像隱身在秘密花園裡,在這樣的空間裡,每個人可以發現人與空間不同的互動方式:有時彷彿置身在洞窟內穿越著樹林,或是在拱狀結構空間中與陌生人擦身而過,也會感受到一種溫柔的關係,或是可以找到屬於個人自在的角落,坐享花園裡的餐桌,而成為其中獨一無二的風景。
These arches give people ever-changing feelings in this dining space: sometimes the restaurant is like a bright cloister, sometimes it is like a dim palace hall, or sometimes it is like a secret garden. There are also different ways of interacting between people and the dining space: sometimes people feel like walking through caves in the woods, sometimes they feel warmth while encountering strangers under the arches, or sometimes they find themselves comfortably dining in a corner as a unique view at the restaurant.