請請 / 台北逸仙
Cin Cin Osteria II / Taipei
義大利文「CIN CIN!」源自中文「請請!」,乾杯之意。
義式料理以豐富而多元的味覺饗宴著稱,因地不同在食材運用和料理方式產生多樣風貌,Cin Cin Osteria承襲義式料理精神融合台灣食材特色,展現獨特料理風味。
而這間隱身於台北信義區巷弄年過半百的老房子,充滿歲月的痕跡我們視為珍寶,不急於整新或掩飾,我們了解承襲空間的歷史韻味融入新時代的創作,才能賦予空間獨一無二的靈魂,展現新的生命。
Italian 'CIN CIN!' is originally from Chinese 'please please', means 'Cheers.'
Italian cuisine is known for its rich and diverse taste feast. It produces different styles due to the difference in food ingredients and cooking methods. Cin Cin Osteria inherits the spirit of Italian cuisine and blends Taiwanese ingredients to create a unique flavor.
However, this old house is over fifty years of age that is hidden in the lanes of Xinyi District in Taipei. Age has left its traces on it, and we regard it as treasure. It 's not in a hurry to renovate or cover it up. We understand that the historical charm of the inherited space is integrated into the creation of a new era, and then we can endow the space with a unique soul and spread out a new life.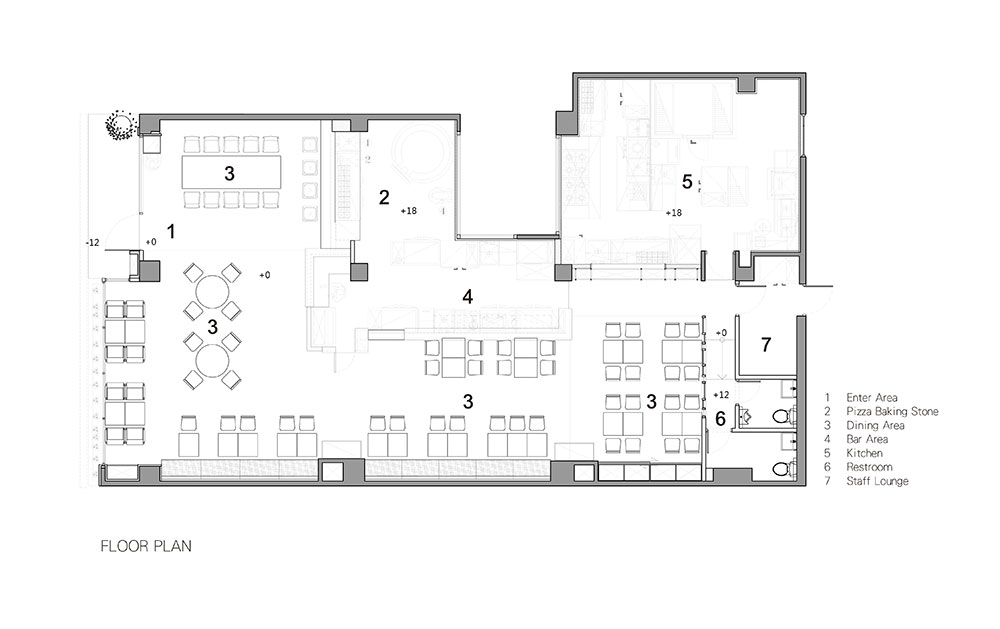 手作精神
Handmade spirit
小麥為食材骨幹,手作是料理的精神。
以小麥圖騰貼法的磁磚招牌,強調義式披料理重視廚房手作精神的連結;碳化實木天花板呼應窯燒的美味,點綴的復古金屬銅燈如銅鍋形塑料理的氛圍;以水泥素地搭配西班牙復古六角磚,如抽象躍動的味蕾引人品嘗。
Wheat is the backbone of the food ingredients, and hand-made is the spirit of cooking.
The tiled sign board feature of wheat as a pattern and connects the spirit of Italian hand-made from the kitchen. The carbonized solid wood ceiling tells the aroma of kiln, and it embellished with retro lights such as the shape of copper pot. The hexagon Spanish tile with cement floor is like an abstract painting.
解構味覺
Deconstruction of taste
解構了食材組成,以味覺出發重組視覺意象,形成新的空間體驗。
以批土牆面鋪陳手作的質感,六角玻璃罐充滿食材與香料,排列如馬賽克般華麗的彩色圖騰,佐以手繪黑白壁畫,以視覺連結味覺,組合而成披薩的視覺意象,圍繞義式料理重視食材、多樣天然香料變化、手作創作的精神。
To deconstruct the composition of cooking ingredients and to be reconstructed the visual images by its taste, makes a new spatial experience.
The wall putty shows the texture of hand-made. The hexagonal glass jar which is full of ingredients and spices, arrange the pattern as the gorgeous mosaic with black-and-white mural of hand-painted. The image of pizza combines vision with taste, which tells Italian cuisine values ingredients, various spices, and the handmade spirit.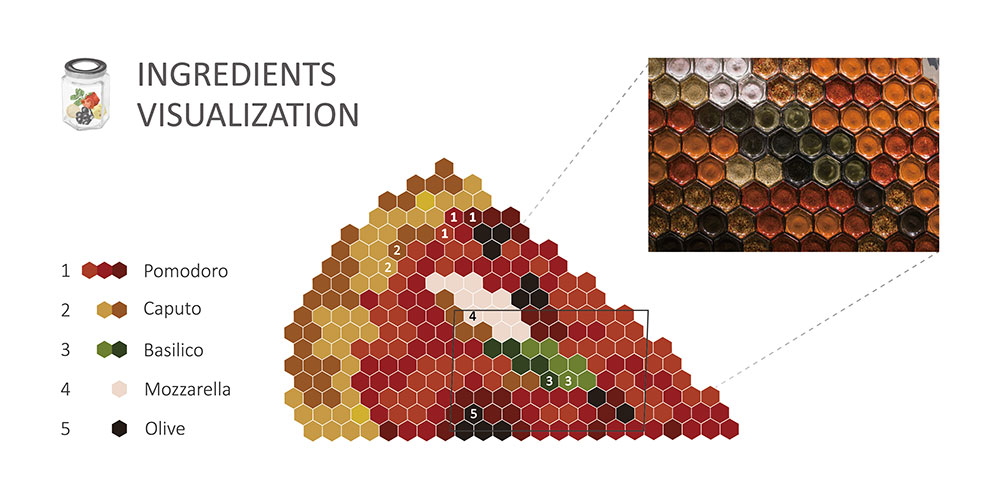 舞台
Stage
料理是創作的藝術,更要人懂。
披薩窯,餐廳的主角也是心臟,設計於進門明顯的位置,迎接的是窯燒香氣撲鼻而來,開放式的料理檯面,看著麵糰展開、鋪料、上鏟、入窯、翻轉、出爐…一氣呵成,上方反射圓鏡多方視角,如動態展演舞台引人入勝,師傅專注眼神與手藝的完美呈現,是感動。
Cuisine is the art of creation, but it also requires understanding.
Pizza kiln is the core of the restaurant, where the customer is greeted by the kiln burning fragrance in the obvious position of the entrance. From making the dough, preparing the toppings, adding the pizza peel, putting in kiln, sliding pizza, and removing from kiln on the kitchen countertops, all the action is done without any letup. The multi-angle perspective reflects from the round mirror on the ceiling above, such as the dynamic show which is fascinating. It is an inspiration that seeing the eyes of the focus and the craftsmanship on the perfect presentation of the master.
歷史記憶
Historical memory
斑駁的油漆、剝落壁紙、釘孔、水泥…層層疊疊50年堆積的歷史軌跡,如考古遺跡壁畫般小心呵護;火腿、食材、鍋碗瓢盆…以手工壁畫方式連結義式料理的文化氣息;復古磁磚、玻璃、銅燈、老窗花…重重組創作,中西元素合璧、文化交疊、新舊之間完美的平衡。
Mottled painting, peeled wallpaper, nail holes, and cement... the historical traces was accumulated over fifty years, like murals of archaeological which remains preserved. Ham, ingredients, and utensils... which connects the cultural atmosphere of Italian cuisine with hand-painted murals. Retro tiles, glass, copper lamps, and old lattice windows...were rebuilt to create a perfect balance between Eastern and Western elements, cultural overlap, and old and new.