鏟子 / 上海
La Pala Pizzeria Ristorante / Shanghai
鏟子義大利餐廳發跡於台中,承襲南義料理精神,是台灣少數獲得正統義大利拿坡里披薩協會(AVPN)認證的餐廳,於2015年正式登陸上海。
麥穗、鋁板與鋼筋,是迎接朋友的初體驗,木材、石材、金屬與磚牆四大元素,是建構整體空間風格的骨架,義大利進口石窯與遵循正統拿坡里料理手藝,是他的靈魂。
La Pala Pizzeria Ristorante started from Taichung. It provides traditional savor of Southern Italy and is one of few restaurants certified by AVPN (Associazione Verace Pizza Napoletana) in Taiwan. The La Pala Shanghai is just opened in 2015.
In the entrance, the first warming impression comes from the decoration of bunch of wheat, plate of aluminum and steel bar. The interior space is composited by four essential elements: wood, stone, metal and bricks. The soul of La Pala is its Pizza Baking Stone and traditional Neapolitan cooking.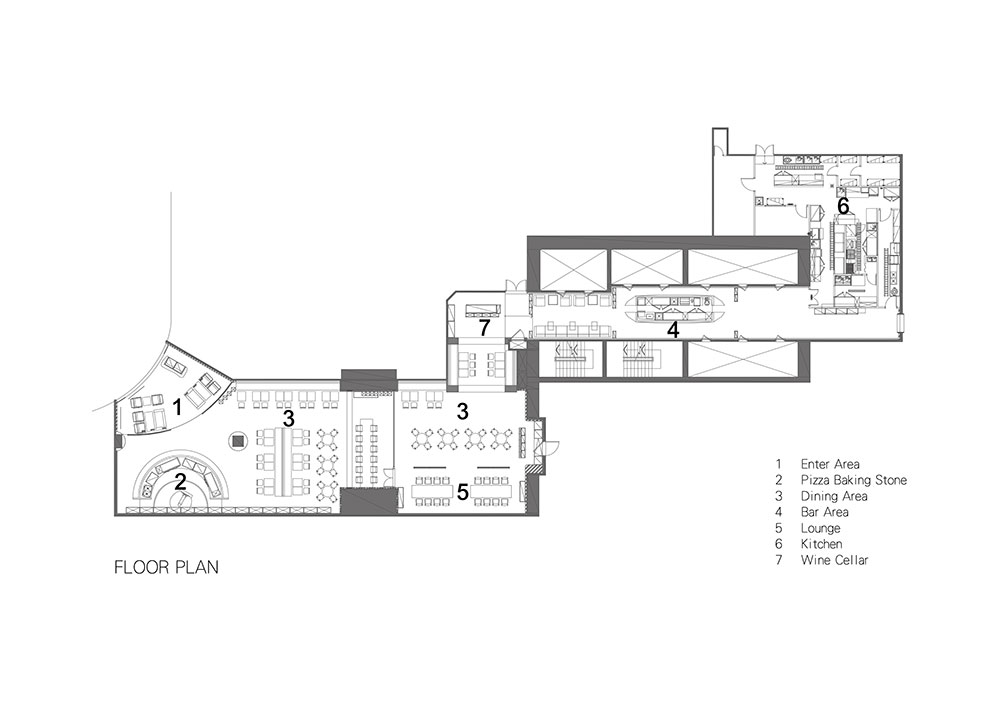 運用自然與工業、傳統與現代、頹廢與奢華等衝突手法,創造鮮明空間個性,恰巧呼應東西融合的上海風情,拱門迴廊,墜入虛實交錯的時空,酒吧藍與酒精的對話,有種晶瑩的質感、一種留連忘返的醉心。
The tension between the Nature and industry, the tradition and modernism, the decadence and luxury, creates a very stunning and characteristic space, which also makes echo to the ambiance of Shanghai, a city full of Occidental and Oriental atmosphere. Right after an arcade, suddenly jumping into a "in-between" space, swinging between virtual and reality. The bottles of wine sparkling under the blue light of cellar, submerged in a crystal atmosphere. You never want to leave.